Jei nejaučiate sotumo jausmo ir nuolat norisi užkandžiauti, tam veikiausiai yra priežastis. Šie veiksniai gali būti lengvai kontroliuojami, tereikia juos žinoti. Dietistė Modesta Giedraitytė atskleidė, kodėl net ir pavalgius kamuoja alkio jausmas ir kaip jį valdyti.
Skaitykite daugiau: https://www.delfi.lt/maistas/naudingi-patarimai/dietiste-ivardijo-produktus-kurie-skatina-alkio-jausma.d?id=87053215
– Modesta, kodėl nejaučiame saiko valgydami maistą?
– Saikas nejaučiamas tada, kai mityba yra išbalansuota, nėra valgymo režimo, valgome tik vieną ar du kartus per dieną ir organizmas negauna reikiamų maistinių medžiagų bei pakankamai skysčių. Norėčiau atkreipti dėmesį į vieną svarią priežastį, kodėl nejaučiame saiko valgydami maistą – nesugebame sąmoningai valgyti. Tai reiškia, kad valgant mūsų dėmesys nukreipiamas į televizorių, telefoną, knygą ar kompiuterį. Tokiu valgymo būdu mūsų sotumo jausmo informacija neperduodama į smegenis ir taip suvalgome tris ar net penkis kartus daugiau nei mums reikia. Kita galima priežastis, kodėl nejaučiate saiko valgydami maistą – emocinis valgymas. Jei emocija nemaloni ir neigiama, žmogus nesąmoningai slopina sukilusią emociją maistu, nes maistas ramina.
– Kaip išvengti užkandžiavimo ir pastovaus alkio jausmo?
– Pirmiausia, reikėtų subalansuoti savo mitybos režimą. Dažniausiai rekomenduoju valgyti tuo pačiu metu ir bent tris kartus per dieną: pusryčius, pietus, vakarienę ir pasirinkti tik vieną užkandį tarp valgymų. Tokiu būdu išvengsite nuolatinio užkandžiavimo ir jausitės sotūs. Be to, reikėtų stebėti, kaip ir ką valgote. Sąmoningai valgant galima išvengti persivalgymo, tik reikia lėtai kramtyti maistą ir pajutus lengvą sotumo jausmą patraukti lėkštę į šoną. Jeigu tai – emocinis valgymas, su juo kovoti gali padėti tos srities mitybos specialistai arba psichoterapeutai. Mūsų kasdienybėje dažnai pasitaikanti emocija – nuobodulys, kurį norime "užvalgyti" iš neturėjimo ką veikti. Tokiu atveju rekomenduoju nukreipti dėmesį į kokią nors mylimą veiklą, pavyzdžiui: piešimą, nerimą, siuvimą, mankštą, pasivaikščiojimą gamtoje. Įdomus faktas, kad cukrus ir "blogieji" riebalai apgauna mūsų smegenis. Nors buvo atlikta daug tyrimų apie smegenų pripratimą prie cukraus, tačiau cukraus ir riebalų kombinacija sukelia aštuonis kartus didesnę priklausomybę nei grynas cukrus. Tai itin priklauso nuo cukraus ir riebalų mišinio proporcijos. Pasirodo, kad į gaminį įdėjus panašų kiekį riebalų ir cukraus, tokia proporcija sugeba "susukti" smegenis taip, kad valgant nebejaučiamas sotumo jausmas. Net ir esant pilnam skrandžiui norisi dar ir dar. Mokslininkai tai vadina hedonistiniu alkiu arba valgymu dėl malonumo.
– Ar įmanoma apgauti organizmą ir atitolinti alkio jausmą?
– Dažnai žmonės maišo maisto ir vandens poreikį. Jeigu mums trūksta vandens, jaučiamas toks pat alkio jausmas, lyg norėtumėm kažko užkąsti. Mes organizmo neapgausime, jis – labai protingas. Jei sveiko žmogaus kūnas yra patenkintas tinkamu skysčių kiekiu ir visomis maistinėmis medžiagomis, mityba susibalansuoja ir mažėja pastovus alkio jausmas.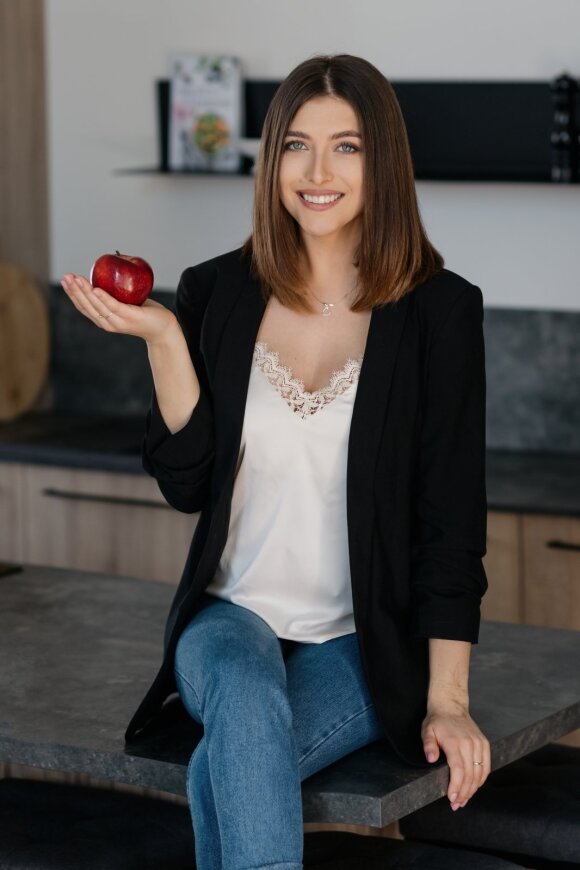 Be to, dažnas alkio jausmas gali reikšti, kad mitybos racione trūksta "gerųjų" riebalų (nesočiųjų rieb. rūgščių), kurie yra būtini mūsų mityboje ir suteikia ilgesnį sotumo jausmą. Maisto produktai, turintys nesočiųjų riebalų rūgščių: avokadas, riešutai, įvairūs šalto spaudimo augaliniai aliejai, riebi žuvis, alyvuogės ir įvairios sėklos: moliūgų, saulėgrąžų, sezamų, ispaninio šalavijo (chia), maltos linų sėmenų sėklos.
– Ar tiesa, kad kai kurie produktai didina alkio jausmą?
– Taip, tai pridėtiniai aromato ir skonio stiprikliai, kurie maisto cheminėje lentelėje žymimi nuo E620 iki E650 (tarp jų yra jau daugumai gerai žinomas aromato ir skonio stipriklis – E621 natrio glutamatas), kurių funkcija – pastiprinti natūralų maisto produkto skonį bei kvapą. Šių cheminių maisto priedų poveikis yra neigiamas organizmui. Pirmiausia, jie neigiamai paveikia žmogaus nervų sistemą, skatina alergijų bei širdies ir kraujagyslių ligų vystymąsį ir, žinoma, didina antsvorio ar nutukimo riziką, nes šie maisto produktai su pridėtiniais aromato ir skonio stiprikliais didina alkio jausmą. Pavyzdžiui, suvalgius rūkytos dešros, turinčios aromato skonio stipriklių, jos skonis lieka burnoje ir taip vėl sužadina apetitą, nors pagal suvalgytą kiekį jau turėjote pilnai pasisotinti. Pagrindiniai maisto produktai, turintys pridėtinių aromato ir skonio stipriklių: rūkyti mėsos gaminiai, kumpiai, įvairios dešrelės, traškučiai, rytų šalių saldžiarūgščiai patiekalai, pusgaminiai, greito paruošimo makaronai.
– Kodėl reikėtų vengti nuolatinio užkandžiavimo ir kaip jis susijęs su alkio ar sotumo jausmu?
– Nuolatinio užkandžiavimo reikėtų vengti, nes tai skatina antsvorio ar nutukimo vystymąsį ir išbalansuoja cukraus kiekį kraujyje, kuris yra atsakingas už mūsų energiją bei sotumo ir alkio jausmą. Išbalansuotas cukraus kiekis kraujyje didina potraukį saldumynams ir dažniausia atsirenkame užkandžius, turinčius itin skurdžią maistinę vertę, t. y. saldumynus, konditerinius gaminius ir kt., to pasekoje gauname ne visų reikiamų maistinių medžiagų bei mažai energijos ir galiausiai vėl greitai išalkstame.