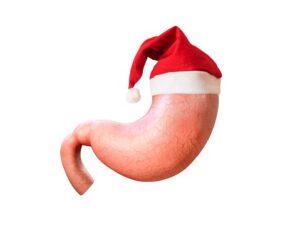 Didžiosios metų šventės tampa tikru išbandymu virškinimui, nes sėdame prie vaišėmis nukrautų stalų ir neretai pamirštame saiką. Sulaukus didžiausių klausimų: "Kaip išvengti persivalgymo" ar "Kaip palaikyti svorio kontrolę, kai ant stalo toks maisto pasirinkimas", nusprendžiau pasidalini spredimo būdais, kurie padės jums išvengti didžiulės nuodemės -persivalgymo ir, žinoma, virškinimo sunkumų.
Ntinkamas požiūris ir nusiteikimas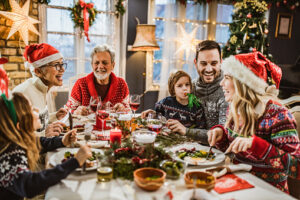 Aš tai vadinu visišku mitybos fenomenu, kai mūsų mintys ir mityba gali apjungti norimą rezultatą. O norimą rezultatą mes daug paprasčiau galime įgyvendinti pakeitę požiūrį ir nusiteikimą į užsibrėžtą tikslą.
Pirmiausia, norėčiau pridurti apie dažną pačių švenčių esmės nebuvimą ir labai liūdna dėl to, kad pas daugelį yra susiformavęs toks destruktyvus požiūris į didžiųjų metų švenčių vaišių stalą. Pradedant kalbėti apie prastą šventinį nusiteikimą, tai dažnai žmogui pirmos mintys sukasi tik apie maistą: "Kiek ir ką valgysiu, kiek daug reikės valgyti, vėl persivalgysiu, priaugsiu papildomų kilogramų, virškinimas sustos, jausiu sunkumą pilvo srityje"… Ir taip užprogramuojate save pačiam blogiausiam švenčių pabaigos senarijui. Tai klausimas, ar jums šventės tikslas yra tik maisto gausa prie stalo ar laikas kartu su artimaisiais, priklauso tik nuo jūsų pačių pasirinkimo.
Sprendimo būdas
Taigi, raktas į saiko jausmą prie gausaus stalo yra – tinkamas požiūris ir nusiteikimas prieš didžiąsias šventes. Jei sąmoningai daugiau stebėtumėte save ką ir kiek suvalgote prie stalo bei kaip po to jaučiates, jums natūraliai sumažėtų maisto poreikis.
Gali pasirodyti neįprasta, bet vienas labai geras metodas, kuris padeda išvengti virškinimo sunkumų, tai tikrai ne kokia gera tabletė ar maisto derinimas. Visuomet savo klientams rekomenduoju išbandyti sutelkti visą dėmesį į aplinką, daugiau įsitraukti į svečių pokalbį šventės metu, pažaisti stalo žaidimų ar užsiimti kokia kita visiems malonia, bendra veikla, kuri visiškai nesietina su maistu. Taip nukreipsite savo destruktyvias mintis apie šventinį stalo maistą ir natūraliai išvengsite persivalgymo.
Tinkamai atsirinkti maistą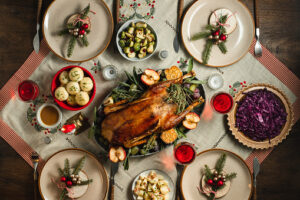 Toliau kalbant apie tinkamą nusiteikimą, tai rekomenduoju nusiteikti iš anksto, kad jums nebūtina visko išragauti ką mato akys ant stalo. Žinoma, atsisakius rizikuojate įžeisti šeimininkus ar namiškius. Bet jūs nesate atsakingi už jų jausmus. Jei neturite ketinimo juos įžeisti, jūsų sąžinė rami.
Pradėkite nuo lengvai virškinamo maisto: vaisiai, daržovės ar salotos, kurios yra be majonezo padažo. Taip organizmas gaus reikiamų skaidulų, kurios padeda skaidyti valgomą maistą ir padeda išvengti maisto pertekliaus. Ir tik po kurio laiko rinkitės pagrindinį patiekalą, prie kuriuo taip pat siūlau nevengti daržovių.
Darykite tarpus tarp valgymų, kad neapkrauti skrandžio su maisto įvairovę vienu metu bei ribokite dedamą maisto kiekį į lėkštę. Taip išvengsite sunkumo skrandžio srityje ir maisto virškinimo procesas nesustos. Taip pat rekomenduoju vengti didžiulės maisto įvairovės vienoje lėkštėje, nes kiekvienai maistinei medžiagai priklauso tam tikros skrandžio rūgštys, kurios atsakingos už jų skaidymą. Ir jei suvalgote įvairaus maisto vienu metu, tuomet ir prasideda skrandžio rūgščių "autoavarija" ir natūraliai sustabdome virškinimo procesus.
Nepamirškite, kad sotumo jausmas pajuntamas po valgio praėjus pie 20 minučių.
Desertas ir savirefleksija
Na ir galiausiai – desertas. Desertas po viso ragauto maisto gali stipriai apsunkinti reikalus, jei jį valgysite kai skrandis yra pripildytas maisto. Didelis gliukozės ir riebalų kiekis yra sunkiai virškinami, kai skrandžio tūris yra dar pilnas ir kaip minėjau, sutrinka skrandžio rūgščių išsiskyrimas, kurios atsakingos už maisto skaidymą. Jei norisi deserto, jį rinkitės valgyti tuomet, kai pajusite palengvėjimą pilvo srityje. Tai signalas, kad suvalgytas maistas jau virškinamas ir yra daug mažesnė tikimybė, kad "apkrausite" skrandį. Aš kaip visuomet savo klientams siūlau įsivaizduoti kaip atrodo vaizdžiai jūsų skrandžio tūris kai pradedate valgyti viską iš eilės ir tai dažnai padeda sąmoningai sustoti.
Mitybos klaidos šventiniu laikotarpiu
Labai dažnai daroma klaida yra, kai žmonės "tauposi" vietos maistui prieš didžiąją puotą ir net būną jau išvakarėse nieko nevalgo. Toks nusiteikimas priveda prie pačios blogiausios nuodėmės – persivalgymas. O persivalgęs žmogus netenka daug energijos, nes visos jėgos atitenka virškinimo sistemos darbui.
Taip pat pastebėjau, kad dažniausiai šventinio laikotarpio metu yra tik vienintelė veikla – valgymas prie stalo. Kaip ir prieš tai minėjau, labai gera išeitis pakeisti tai kas tapo jau įprasta ir sutelkti visą dėmesį į aplinką, daugiau įsitraukti į svečių pokalbį šventės metu ar užsiimti kokia veikla kaip stalo žaidimai, pasivaikščiojimas.
Rekomenduojamas deserto receptas
Rekomenduoju išbandyti mano firminį jogurtinį pyragą, kuris padės palaikyti lengvumą pilvo srityje, nes sudėtyje yra mažai cukraus ir riebalų, o baltymų kiekis padidintas. https://www.mitybosfenomenas.lt/jogurto-pyragas/
Na ir apie tai, jei jau persivalgėte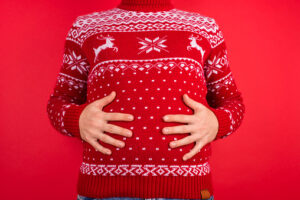 Mano patarimas, tik natūraliai leisti virškinimo sistemai susireguliuoti. Kad tai padaryti, jokiais būdais nekriskite prigulti į lovą ar krėslą.
Išeikite pasivaikščioti gryname ore, padėkite susitvarkyti šeimninkams ar namiškiams šventinį stalą, pažaiskite su vaikais ar užsiimkite kokia kita veikla, kad išvengtumėte sedėjimo ar gulėjimo.
Gerkite pakankamai skysčių. Vandenį galite paskaninti su citrina ir imbieru.
Kitą dieną atsikėlus rinktis tik lengvai virškinamus pusryčius, kuriuose nebūtų riebių pieno produktų, mėsos ar "greitųjų" angliavandenių. Verčiau rinkites pilnavertį maistą: ilgo virimo norimą košę, vaisių salotos, liesas jogurtas ar, tiesiog, vaisių ir daržovių asorti. Toks maistas jums padės lengviau natūraliai atsisatyti dėl jame esančių atinkamu angliavandenių ir skaidulinių medžiagų.
Šiltų ir lengvų švenčių,
maloniai, Modesta!